Post by BassEcho on May 29, 2009 0:58:12 GMT -5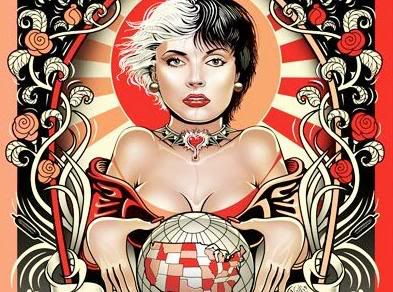 Blondie and Pat Benatar to Tour Together
The Donnas will open all dates. Read here to find out when the ladies will rock your hometown!
Break out the leg warmers and vintage rock T-shirts, Blondie and Pat Benatar have announced a co-headlining summer tour!
The 19-date outing, dubbed the Call Me Invincible tour, will also feature the Donnas, who will open all shows. The tour kicks off July 21 in Saratoga, CA, and marks the first-time Blondie and Benatar have ever shared the stage.
"Pat Benatar is not only a friend, but a fearless female rocker who has entertained me and her wealth of fans for so many years," Blondie frontwoman Debbie Harry said in a statement posted on her band's website. "This will be a reunion for us both and being able to bring our two shows to fans across the country is very exciting!"
In 2007 Harry released Necessary Evil, her first solo album in 14 years. Currently Blondie are recording songs for a new album, their first since 2003's The Curse of Blondie. "Working and creating is what I like to do the most, " Harry told SPIN.com in '07. "It's what turns me on… I think a complete vacation would probably kill me."
For ticket info visit blondie.net or benatarfanclub.com.
Blondie/Pat Benatar tour dates:
7/21, Saratoga, CA (Mountain Winery)
7/22, Livermore, CA (Concerts at Wente Vineyards)
7/25, Lemoore, CA (Tachi Palace Hotel and Casino)
7/26, Costa Mesa, CA (Pacific Amphitheater)
7/28, Phoenix, AZ (Dodge Theater)
7/29, Albuquerque, NM (Isleta Casino -- The Lakes)
8/1, Memphis, TN (Mud Island Amphitheater)
8/2, Atlanta, GA (Chastain Park Amphitheater)
8/5, Gilford, NH (Meadowbrook -- US Cellular Pavilion)
8/7, Bethlehem, PA (Bethlehem Musikfest)
8/8, Boston, MA (Bank of America Pavilion)
8/11, Canandaigua, NY (Constellation Brands Marvin Sands Performing Arts Center)
8/13, Brooklyn, NY (Asser Levy Park)
8/15, Cincinnati, OH (Riverbend Music Center)
8/17, Highland Park, IL (Ravinia Pavilion)
8/20, Austin, TX (Austin Music Hall)
8/21, Biloxi, MS (Beau Rivage Resort)
8/23, Houston, TX (Arena Theater)
article courtesy
SPIN.COM
===========================
I'd LOVE to see this!!!